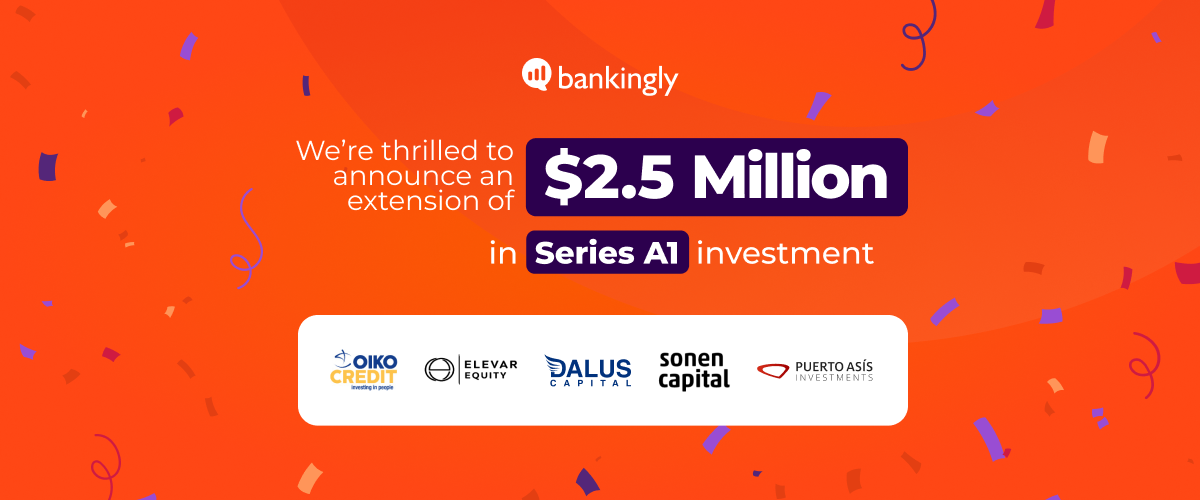 June 29, 2023
Bankingly has announced new investment led by Oikocredit.
Bankingly, a leading provider of digital channels for financial institutions in emerging markets, has announced new investment led by Oikocredit.
Bankingly, renowned for its innovative technological solutions in digital banking, has successfully concluded an extension of USD 2.5 million to its Series A1 funding round, which took place in 2022. The primary objective of this strategic investment is to fuel growth and reinforce Bankingly's position in the global market. This infusion of capital will enable the company to accelerate product innovation, expand its presence in Latin America, Africa, and Asia, and continue to empower financial institutions in their digital transformation.
With a presence in 22 countries and serving over 110 clients, Bankingly has established itself as a leader in providing cutting-edge technology solutions to financial institutions from emerging markets. The company's offerings not only enhance efficiency and accessibility to financial services but also ensure regulatory compliance and security for these institutions. Bankingly's technology platform adheres to the highest standards, allowing financial institutions to meet market-specific regulations and requirements. By fostering a robust ecosystem of products, Bankingly enables the competitiveness of these financial entities, such as banks, cooperatives, and microfinance institutions, who face an increasingly demanding digital landscape.
Oikocredit, an international cooperative and social impact investor, spearheaded this investment extension and will join Bankingly's Board of Directors. Likewise, existing investors Elevar Equity, Dalus Capital and Sonen Capital have reaffirmed their confidence in Bankingly's mission and execution. Joining this group of investors are the new partners, Puerto Asis and FINCA Ventures. Leveraging vast global microfinance expertise, FINCA Ventures provides invaluable insights for comprehensive financial access. Committed to aiding impactful social enterprises, they bolster families and micro businesses, fostering resilience and prosperity.
Martin Naor, CEO and founder of Bankingly, expressed his enthusiasm for this significant milestone in the company's history: "This financing extension is a testament to Bankingly's continued success and growth potential. We are committed to delivering innovative solutions that enable financial institutions to provide an exceptional digital experience to their customers. We are grateful for the support and trust of our investors and excited about the opportunities that lie ahead."
"Oikocredit's ultimate goal is to generate a positive and lasting impact on the lives of people and communities with low incomes. In this era of digital advancements, the COVID-19 pandemic has underscored the importance of digitalisation in establishing meaningful connections between businesses and their customers. Oikocredit recognises that many small and medium-sized financial institutions in emerging markets still face challenges in delivering comprehensive digital channels that meet the evolving needs of their customers. This is where Bankingly's expertise comes into play. By joining forces with Bankingly, Oikocredit sees tremendous synergies and opportunities to further advance our mission of promoting sustainable development and financial inclusion, effectively addressing these challenges" commented Nicolás Arrosa, Equity officer at Oikocredit.
About Bankingly
Founded in 2015, Bankingly emerged as a fintech company with a vision to transform the way financial institutions in emerging markets drive their digital channels and, consequently, facilitate financial inclusion for millions of people worldwide. By providing cloud-based technologies with a SaaS business model based on the number of active users achieved by each institution, Bankingly enables its customers to align their costs with the benefits gained. Through a streamlined and high-standard implementation process, Bankingly's platform offers a mobile application, a transactional web, a chatbot, and multiple other products. Today, Bankingly's technology is trusted by over 2,000,000 people across nearly 110 institutions, and it counts among its clients organizations such as Asociación La Nacional (Dominican Republic), Coopealianza (Costa Rica), CSN Cooperativa Financiera (Mexico), Banco Amazonas (Ecuador), Ban100 (Colombia), and ABC Bank (Kenya), among others.
About Oikocredit
Oikocredit is an international cooperative and social impact investor with 47 years of experience in funding organizations active in financial inclusion, agriculture, and renewable energy. Oikocredit's loans, equity investments, and capacity building aim to enable people with low-income in Africa, Asia, and Latin America to improve their living conditions. Oikocredit finances over 500 partners in 55 countries, with a total loan portfolio of €1,231.4 million (as of 31st March 2023). Social impact investor and worldwide cooperative Oikocredit has almost five decades of experience funding organizations active in financial inclusion, agriculture and renewable energy. Oikocredit finances more than 500 partners, with total outstanding capital of € 1,010.6 million (31 March 2023).
Back
to top