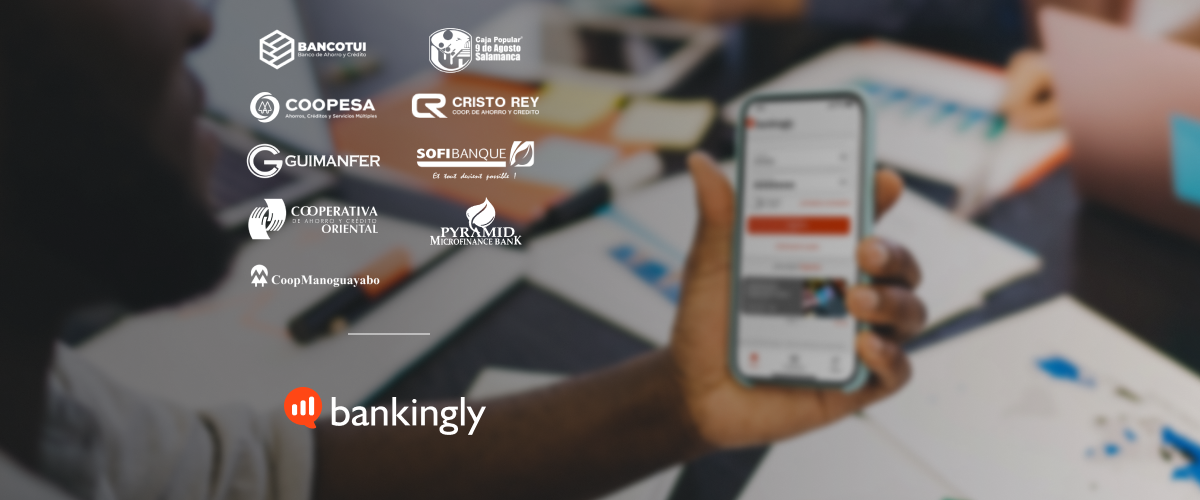 November 15, 2023
Transforming the Banking Landscape in Latin America and Africa
The financial landscape is rapidly evolving, and at Bankingly, we're thrilled to be at the forefront of driving financial inclusion across Latin America and Africa!
The digital revolution within the financial sector is progressing swiftly, and Bankingly is thrilled to actively contribute to this transformation. Our mission involves partnering with leading financial institutions to simplify and enhance the accessibility of financial services for millions worldwide. On this occasion, we share the exciting collaborations we have established with new entities in Latin America and Africa.
Mexico and Ecuador: Growing Markets
Mexico, which stands as one of the largest markets in Latin America, has experienced rapid progress in financial digitization. In this context, Bankingly has worked closely with Mexican financial institutions to promote the adoption of innovative technological solutions and transform the banking experience in the country. A notable example of this partnership is Caja 9 de Agosto in Salamanca, Guanajuato. This Mexican financial institution has embraced digital banking, offering web and mobile banking solutions, that not only enhance the customer experience but also optimize operational efficiency.
In Ecuador, we are pleased to highlight the collaboration with COAC Cristo Rey in Loja. This Ecuadorian financial entity has joined the wave of digital transformation by adopting digital web and mobile banking solutions. This initiative represents a firm step towards the future of banking in Ecuador, offering customers a more modern and accessible banking experience in line with the evolution of finance in the region.
Financial Digitization Making Waves in the Dominican Republic
Financial digitization is leaving its mark in the Dominican Republic as well. Bankingly is proud to partner with various Dominican financial institutions that share our vision of transforming banking in the region through the implementation of innovative digital channels. These collaborations include:
Cooperativa Coopesa in Salcedo, Hermanas Mirabal #77.
Créditos Guimanfer in Santo Domingo.
Cooperativa Manoguayabo in Santo Domingo.
BancoTUI in Cotui.
Cooperativa Oriental in Higüey.
The adoption of digital banking solutions in the Dominican Republic represents a significant advancement in how people manage their finances. Customers of these financial institutions will now be able to access banking services more quickly and conveniently, giving them greater control over their accounts and transactions.
Expansion in Africa: Nigeria and the Democratic Republic of Congo
Bankingly's expansion is not limited to Latin America, as we are also making significant strides in Africa, specifically in Nigeria and the Democratic Republic of Congo.
In Nigeria, we have established a prominent collaboration with Pyramid MFB in Lagos, a financial institution that recognizes the value of digitization. Through this partnership, Pyramid MFB has acquired digital banking solutions, facilitating the customer experience in accessing financial services.
On the other hand, in the Democratic Republic of Congo, Sofibanque in Kinshasa has demonstrated its commitment to innovation by acquiring the Chatbot solution. This tool will enable the financial institution to optimize its communication with customers and enhance the online customer service experience.
Financial digitization is paving the way for more modern and accessible banking for all, and Bankingly is proud to be part of this change! Do you also want to be part of this digital revolution? Contact us!
Back
to top