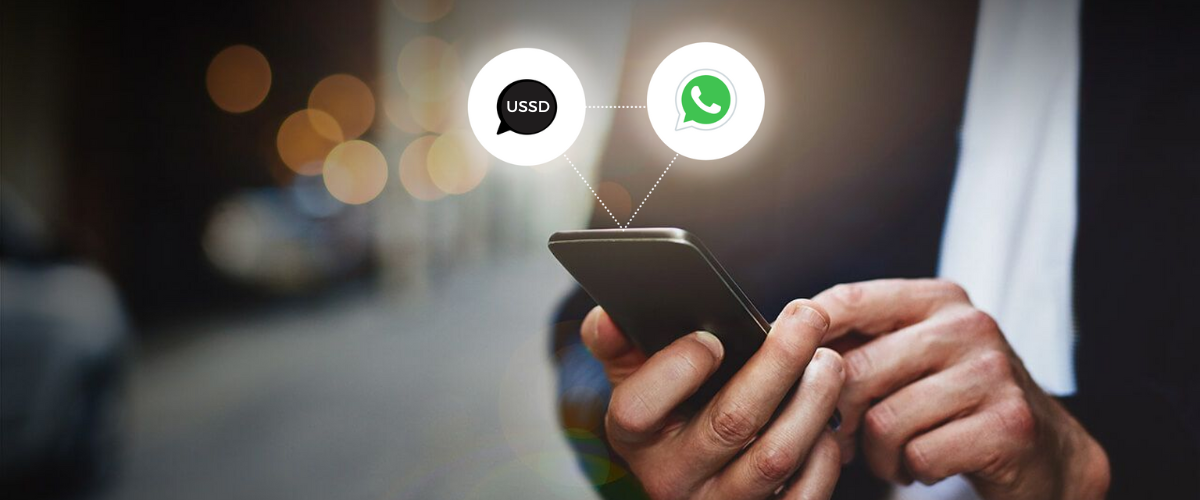 April 17, 2023
USSD Vs WhatsApp For Conversational Banking: A Comparative Analysis
In this blog, we will explore how SMEs can leverage conversational banking using USSD and WhatsApp platforms and how Bankingly's services can help.
Between 2016 and 2019, research has both predicted and proven the advantage of using chatbots. The first suggested that chatbots have the potential to help businesses save up to 30% of customer service costs. The other showed that 64% of representatives with chatbots say that they can spend most of their time on complex concerns and issues.
In the banking sector, chatbots and digital assistants have become increasingly popular for customer service. Banks now provide customers with a conversational experience that is both seamless and secure. But first, what is conversational banking and how does it help SME financial institutions?
Conversational banking, in simple terms, is the use of digital assistants to provide customer service. It allows customers to interact with their banks through natural language instead of having to navigate complex menus or websites. It also enables financial institutions to deliver personalized services based on individual needs and preferences.
There are two popular platforms for conversational banking: USSD (Unstructured Supplementary Service Data) and WhatsApp Messenger. In this article, we will compare the two platforms and explore how SME financial institutions can leverage either of the two using Bankingly's conversational banking services.
USSD
USSD is a protocol employed by GSM cellular telephones to interact with service providers' computers. This makes it ideal for quick interactive text-based sessions, like inquiries and menu-based services (up to 182 alphanumeric characters).
Furthermore, it does not require an internet connection or app download, making it accessible on any GSM device – particularly useful in rural areas with limited high-speed internet access and/or low bank penetration rates. It also facilitates two-way communication without the need for a smartphone application.
Though USSD offers speedy and convenient banking services without the need to visit a branch, download an app or navigate complex websites, its features are somewhat limited; thus, it cannot be used for more sophisticated tasks such as sending files or images.
WhatsApp
With over 1 billion active users worldwide, WhatsApp Messenger is one of the most popular messaging apps available. It offers secure end-to-end encryption, allowing messages sent to remain private between sender and receiver. WhatsApp provides a variety of features, including document and image sharing, video calls, and voice calls.
The main advantages of this platform are its accessibility, user-friendly design, and a broad range of functions – including Bankingly's ability to communicate with customers in an interactive way.
The app gives users a modern messaging experience that is secure and supplied with plenty of features. Despite this, there are some drawbacks too – such as needing compatible smartphones along with average internet speeds for full functionality.
Side by side: WhatsApp vs. USSD
Mobile and web banking features:
WhatsApp offers a secure and feature-rich messaging experience, making it an appropriate platform for conversational banking services. Banks can send customers account balances, recent transactions, credit scores, and other financial information via private messages. Additionally, loan origination processes are enabled by allowing customers to submit documents securely for review.
Meanwhile, USSD is ideal for swift tasks like checking account balances or transferring funds between accounts due to its fast and efficient nature. It works well in undeserved areas – where mobile phone usage may be low – as no app download is required.
CRM and data management features:
WhatsApp provides banks with a powerful customer relationship management (CRM) platform. Banks can use WhatsApp to manage customer data, send notifications and offers, and even provide support. Another plus is that it allows customers to communicate with the bank in their language.
USSD, on the other hand, does not offer any CRM features and may be limited to quick, basic data management tasks, such as checking account balances or transferring funds between accounts.
Fraud prevention:
WhatsApp has end-to-end encryption so that messages are secure and private between sender and receiver, making it an ideal platform for fraud prevention. USSD has its own basic security features, like OTPs (one-time passwords), as additional layers of protection for data being transmitted. However, it does not provide end-to-end encryption and may not be sufficient to support more advanced approaches to risk and vulnerability prevention.
Stay ahead of the curve: Bankingly's conversational banking
The fintech industry is ever-changing, and we understand the risks and opportunities on a nuanced level. Bankingly offers the best of WhatsApp and USSD as standalone options through our Conversational Banking, which we do to provide a comprehensive solution for different customer needs.
We provide users with secure banking so that they can leverage security and compliance from most popular channels. There is also a range of interactive features, such as customizable menus and automated conversations, that help customers stay ahead of the curve when it comes to their banking needs.